Help us leave NO puppy behind!
December 19, 2022 | 2:42pm
Help us leave NO puppy behind!
One day, one of our newly adopted dogs got away from his adopter. To say they were distraught was an understatement. They felt horrible and frantic, and so did we. We were so worried about our pup who we've cared for for weeks leading up to his adoption. Our hearts were absolutely broken to know he was alone again, on the streets. Luckily, he had a tracker on his collar, so we knew the general area where he was, but the brush was so thick that we still couldn't find him. Turns out, we were somehow right next to him. 
That's when a kind neighbor came out to talk with us. He had been in the military and had a thermal imaging camera with him. With his help, we could see EXACTLY where our lost dog was! Thanks to this compassionate neighbor and his military grade thermal imaging camera, we were able to find the pup and reunite him with his new home. We cried with his new family and were all so relieved to have him safe. He's been happy, spoiled, and healthy with his family ever since! 
Now fast forward to a few weeks ago. Donna and the rescue team were walking around in a very dangerous, abandoned and crumbling house. There were holes in the floors and three puppies had already fallen through. After getting them to safety, we did a very thorough search of the house, as we always do, to make sure we had all the puppies. We went back a few days later, and it was our worst nightmare. There were more puppies that we had left behind. How did this happen? Where were they? Thank God they were okay, and we were able to rescue them all to safety. But these abandoned houses are pitch black inside and a scared, tiny puppy can just shut down and stay very quiet as we unknowingly walk right past them. We could literally step right over them, and if they are hiding under rubble, we may not see them. That's when Donna remembered the thermal imaging camera that kind man had used a year or so before. We don't ever want to think about leaving a puppy behind. The thought of it makes us literally ill. 
We reached out to some of our Veteran friends for advice. They really took a lot of time to help us find a thermal imaging camera that would best suit our needs, and they all thought it was a great idea.  
This is the Infrared camera we have decided on that we can take with us on puppy rescues (and to help us find lost dogs!) so we never leave anyone behind. It will give us that peace of mind we desperately need! 
This is where YOU come in! Can you chip in and help us purchase this camera to save lives? Here are the details:
FLIR E8-XT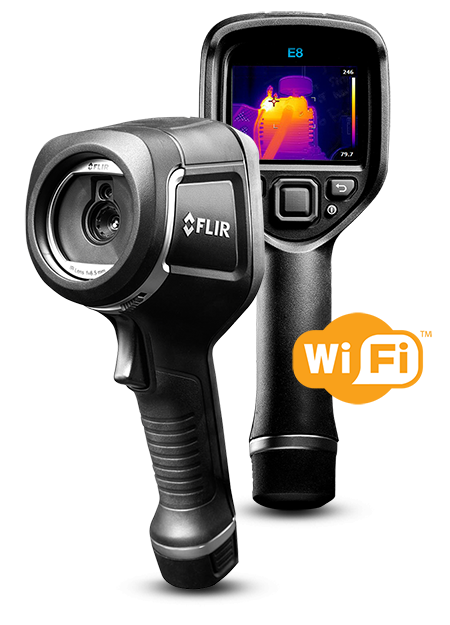 Infrared Camera with Extended Temperature Range
FLIR E8-XT is the perfect tool for diagnosing electrical, mechanical, and building problems, thanks to its 76,800 (320 x 240) pixel infrared detector and expanded, -20°C to 550°C (-4°F to 1022°F) temperature range. FLIR MSX® image enhancement provides extraordinary thermal imaging detail, while the built-in Wi-Fi allows users to quickly connect with the FLIR Tools® Mobile app for sharing images and sending reports easily from any location.
The camera is $3,400. If everyone chips in and gives a little bit, we can buy this and hopefully it will give us the peaceful night's sleep we need so often!
Donna never wishes for anything (other than vienna sausages of course!) so let's get it for Donna! We don't buy things just to buy them. We put a ton of time and research into it and truly believe it will help us save more. 
To chip in, click here: